by Gillian Fowler, Marketing & Communications Manager
Having recently seen an appeal online from Aberdeen-based Community Food Initiatives North East (CFINE), we immediately asked our Westhill HQ employees to get onboard to help our local community who are in need.  And what a fantastic response from all – thank you to our team!
The appeal from this local charity was, and continues to be, for non-perishable items, such as rice, pasta, tinned food (soup, sauces, beans, macaroni etc) as well as toiletries, children's toys, nappies, all of which help to make up emergency parcels for those in need.   However, on our visit to drop off all the goods kindly donated by our Tendeka team,  we discovered this social enterprise does not just offer a food bank, but is committed to social inclusion and development through a number of channels: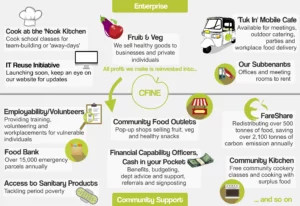 It's incredible to see the fantastic and life-impacting work the CFINE team provide, and also the invaluable input from individuals and corporates alike through donations of goods, time, support and experience.
To find out more, go to www.cfine.org or pop along to their Aberdeen premises:
2-4 Pynernook Road
Aberdeen
AB11 5RW
01224 596156