by Gillian King, VP Europe, Africa, Russia & CIS
One of the highlights for me during my recent visit to the OMC2019 Conference in Italy was the focus on sustainability and how the oil and gas industry is working with governments to reduce carbon emissions.  There is little doubt that the industry will play an important role in the energy transition and while the use of wind and solar power continues to increase, there will still be a need for hydrocarbons.  But we need to produce these more efficiently.  In fact, the world's energy needs will increase by 30% over the next 20 years and we will need to find ways of delivering this whilst reducing our greenhouse gas emissions by 50% to meet global targets.
Pratima Rangarajan, the CEO of Oil and Gas Climate Initiative, gave an inspiring presentation on how their members, who include the largest oil and gas E&P companies, are working together to keep global warming below 2C. They invest in technologies that lower the carbon footprint of the energy and industrial sectors.  Pratima indicated that the amount of wastage in oil and gas today is unacceptable and gave a very easy to understand analogy to describe this:
Imagine you do your weekly shopping and buy three bags of groceries…as you are driving home, you throw two bags out of the window. That would be a complete waste, right?  Well, that's what we're doing every day in our industry so there is much to be done to increase our efficiency.
On a recent visit to Total in Copenhagen, I spotted this report in their reception. The title 'Integrating Climate into our strategy' shows how much importance Total is placing on this going forward, not only being seen to be environmentally responsible but incorporating it into their strategy.
Occidental's CEO stated recently that "every oil company should be striving to become carbon neutral…we think we can be carbon negative". Big statements from the majors!
Another key note that Pratima made was that this requires a culture change, like the one that occurred with Safety 30 years ago.  We all understand the importance of working safely and it is in our culture to stop unsafe acts and work towards zero incidents.  This is what we need to do with climate change; making our industry more sustainable and although this is a massive problem, it is up to every one of us as individuals to do our bit.
I recently decided to calculate my own carbon footprint using an online calculator. And the results were quite shocking.  Overall in my home, in the things I buy and the products that I use, my emissions were relatively low. But I'm undoing any good work by getting on way too many flights.  My carbon footprint is three times the UK average and I am consciously now thinking about this as I plan ahead.
Anything that we can do to reduce leakage of methane during oil & gas production or to reduce CO2 through efficiency will help.
Advice from the Oil & Gas Climate Initiative is to –
"look outside for ideas, look inside for opportunities".
The members of the climate initiative (Shell, Petrobras, Pemex, Total, Chevron, Repsol, Saudi Aramco, CNPC, Exxon, Occidental and BP) are leading the way in terms of sustainability within the industry but really, it is up to each organisation and every one of us as individuals to take responsibility and take action now.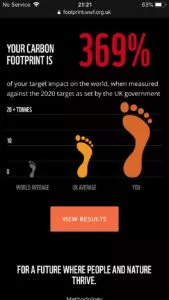 Gillian King's carbon footprint stats